Thursday 2nd May 2013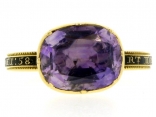 For this year's Country Life - LAPADA Object of the Year competition we submitted an extremely important ring from our collection. It is an amethyst memorial ring for the Right Honourable George Grenville (British Prime Minister, 1763-1765), English, circa 1770.

George Grenville (14 October 1712 – 13 November 1770) was a prominent British Whig statesman during the reign of George III. Educated at Eton, Christ Church and Oxford University, he led a distinguished political career, which included holding the positions of Treasurer of the Navy, Leader of the Commons, Northern Secretary, First Lord of the Admiralty, and ultimately, Prime Minister. He is perhaps best known for the Stamp Act of 1765 on the American colonies which, due to major opposition there, played a part in provoking the revolution. He was one of five brothers, all of whom became MPs, as did his sons, George and William.

Setting aside the historical importance of the man it commemorates, the ring is a wonderful, rare piece of Georgian craftsmanship in excellent condition. Due to the large size and quality of the ring it may well have been commissioned as a commemorative piece to be worn by his son, William Grenville, who also went on to serve as Prime Minister from 1806 to 1807.
This ring is of undoubtable importance, and thanks to your support we won The People's Vote!

Thank you very much to everyone who voted for us in celebrating the quality and rarity of this truly important ring.