Friday 26th April 2013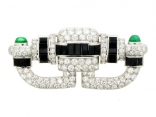 In anticipation of the upcoming release of Baz Luhrmann's new adaptation of the film 'The Great Gatsby' we take a closer look at the sumptuous style and elegance of Art Deco period jewellery, which was at its height in the decade in which the story takes place: the glamorous 1920s.

The central character of the film Daisy Buchanan played by Carey Mulligan, is bedecked with sumptuous deco jewels luxuriously set with an abundance of diamonds and pearls.

After the end of World War I, women enjoyed a new freedom of living and a more important part in society and this was reflected in the clothes and jewellery that they wore. Originality became sought after, bringing a freedom of expression to designers and makers. Working closely with the fashions of the time, jewellery design incorporated new or rediscovered materials and developments in technology and followed the forms of a new artistic revolution adopted by artists and architects.

After the naturalism of Art Nouveau, geometry became the new style and forms became simpler and purer with an enhanced clarity of lines and shapes. Platinum became the metal of the decade and this was the perfect background to set off the distinct blocks of colour of large transparent gemstones contrasting with opaque materials such as onyx, jade and coral.

Headdresses, layered pearl bracelets, drop earrings, hair slides and big diamond rings - Carey Mulligan looks every inch the wealthy flapper girl. Of course, it will take more than jewels to recreate the style, elegance and talent of one of our favourite actresses in this film, but at Berganza we are lucky enough to boast a fantastic selection of Art Deco jewellery from the 20s period that will help along the way. Surely the most luxurious decade of all was the 1920s, and what better way to channel glamour and style than to wear a genuine piece of original Art Deco period jewellery?