Friday 5th March 2010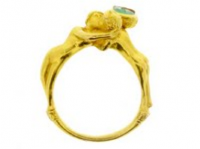 Figural jewellery in the form of human or animal figures —has been made for millennia. Jewels of this kind were fashioned by the Mesopotamians as early as 3000 BC, and were likely used as amulets, or symbolic objects with a protective function. Examples also originate from ancient Egyptian, Greek, Etruscan, Roman, Celtic, Chinese, and South and Central American cultures. Figural jewellery is categorized into two types, either with figures in the round, or with figures set against a background. Rings in particular lend themselves to designs of the first category, with full figures making up the shank of the ring.

In the modern age, figural jewellery, very often rings due to the suitability of the form, became fashionable in Europe during the fifteenth and sixteenth centuries, particularly in France, Italy, and Germany. Evolving from their ancient amuletic use, Renaissance figural jewels often displayed a theme or told a story, frequently Biblical or mythological. Albercht Dürer, the famous Renaissance German artist, is known to have designed rings of this type. Many figural rings from this period incorporated gemstones, as seen in designs for rings by Pierre Woeiriot, a French artist and goldsmith, dating from 1561.

Figural rings became popular again in the latter half of the nineteenth century, first in the guise of various revivalist styles, including the Gothic, Classical, Egyptian and Renaissance modes. Gothic revival style rings integrated full length figures of angels and saints. Sphinxes, pharaohs, and serpents can be found in Egyptian revival style rings, and Greco-Roman gods and nymphs in Classical revival style works, both drawing on ancient examples. Rings in these two styles were regularly set with intaglios, which again were inspired by their ancient counterparts. Renaissance revival designs largely mimicked the human and mythological forms of the Renaissance originals discussed above.

Around the turn of the twentieth century jewellers working in the Art Nouveau style embraced the use of the human form, especially nudes. These rings, like the original Renaissance jewels, were often allegorically themed. They are distinctive from the earlier revivalist figural rings in their swirling, intertwined designs, so characteristic of the Art Nouveau.

Whatever their age, ancient to antique, figural rings allow the wearer to bear not only a piece of beautiful jewellery, but also a piece of sculptural art, and as well as a myth.

REFERENCES

Diana Scarisbrick, Rings: Jewelry of Power, Love and Loyalty, Thames and Hudson, 2007.

Hugh Tait, 7000 Years of Jewellery, The British Museum Press, 2006.