Friday 24th September 2010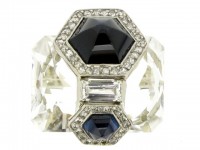 Seaman Schepps was born in New York City's tenement-dominated Lower East Side in 1881, the son of Hungarian immigrants. Rising from these humble beginnings, he built a business that featured designs which drastically departed from the traditional modes of his day. These adventurous jewels came to define a new style that became popular with the elite of the 1930's movie stars, socialites, barons of industry, and royalty a clientele which earned him the title "America's court jeweller".

The present ring is typical of Schepps designs of the mid-to-late thirties. In the early part of the decade, when he first started to produce his own jewelry in any significant quantity, his designs were, while original, predominantly symmetrical, two-dimensional and set with matched stones. Pieces produced in the latter years of the decade, however, are markedly sculptural, oftentimes with unmatched stones in irregular arrangements, as exhibited here with sapphires of differing sizes and saturations, and the horizontally asymmetrical layout. The use of a faceted, upturned rock crystal was revolutionary, and perhaps unique to his oeuvre, not to mention others'.

A Schepps jewel with an analogous design scheme, featuring rock crystal paired with precious gems brilliant cut diamonds and both carved and cabochon emeralds in an asymmetrical placement, originally in the collection of Andy Warhol and now in a private collection, dates circa 1940. Another comparable piece, this time a cuff bracelet in the collection of Phyllis J. McGuire, much like the present ring displays a vertically symmetrical design of diamonds and aquamarines, yet is set with stones of similar but distinctly varying tones, cuts, and sizes. Schepps, who was a well-travelled man by the time these pieces were made, was likely inspired by early twentieth century art, such as Cubist and Dadaist works, as well as Asian artefacts, all of which he had the opportunity to view in New York, Paris, and San Francisco; his rejection of both symmetry and a hierarchy of materials point to these influences.

Schepps' jewels were featured in many of the major fashion titles of his day, and regularly graced the covers of Vogue and Harper's Bazaar. Katharine Hepburn, Coco Chanel, the Duchess of Windsor, and Gloria Vanderbilt are just a few of his illustrious patrons. Since his arrival on the fashion scene his influence has been felt throughout the jewellery industry, and to this day his works continue to inspire. Simultaneously classic, contemporary, elegant, and bold, to own a Seaman Schepps piece is to embrace one's individuality and not be afraid of making a statement.

REFERENCES

Amanda Vail and Janet Zapata, Seaman Schepps: A Century of New York Jewelry Design, New York: The Vendome Press, 2004.