YARD INC
Raymond Yard worked his way up from humble beginnings to become one of America's premier jewellers. Born in 1885 to Caroline and William Henry Yard of New Jersey, Raymond's childhood was riddled with trials. His younger sister died in his early years followed by the untimely death of his father in 1897 when Raymond was only twelve years old. It was the death of his father, a train conductor that paved the beginnings of Raymond's illustrious career within the jewellery business. At the young age of thirteen he was employed as a door boy at the leading New York City jeweller Marcus & Co. Through his teen years he was a diligent student learning from his superiors and displaying a natural talent for recognising quality gemstones and craftsmanship. By his mid-twenties Raymond was the general manager and it was in this position that he became acquainted with many from New York's high society. John D. Rockefeller was one of his special clientele who recognised his talent and encouraged him to start his own business.
With his decades of experience, Raymond took the advice of John D. Rockefellar and opened his first showroom in 1922 at 527 Fifth Avenue. During these first years, now referred to the firm's "classic period", Yard established himself with the American elite. His classic designs grew popular amongst barons of industry such as Henry DuPont and Henry Flagler, and celebrities like Joan Crawford and Douglas Fairbanks. It was also during this period when Yard's own distinctive style emerged. Primarily working in the Art Deco mode, Yard designs ranged from understatedly elegant to charmingly whimsical. His rabbit brooches created in the late 1920s and 1930s are today one of the most collectable pieces of fine vintage jewellery.
During his early years within Marcus & Co., Raymond was exposed to stringent work practises and quality control. This early training developed Yard into a notorious perfectionist. Only the finest quality gemstones were selected for Yard jewellery, which included sapphires from Kashmir, rubies from Burma and natural pearls. Each gem was set by hand with close instruction from the designs. Another renowned quality was the widely used highly polished platinum settings which secured gemstones without cumbersome claws created the illusion that gems are floating on air. Yard also utilized contrasting gemstone cuts, playing simple step cuts against sparkling brilliants, which lent his jewels an added lushness. No shortcuts were utilised which meant that Yard's jewellery was finished with impeccable precision so the jewel was eye catching from every angle including the reverse. The attention to detail, use of rare gemstones, innovative settings and individual design created a sophisticated style and legendary legacy.
Raymond Yard retired in 1958, the firm was taken over by three men selected by him one of which was his protégé Robert Gibson, who was originally Yard's golf caddy. Continuing the stewardship of Yard's trademark quality, the torch was then passed to Gibson's son in 1989, who continues to maintain the Yard name.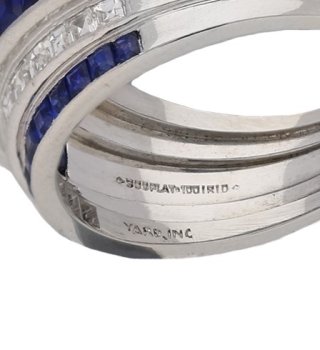 Click here to see all the pieces we have in stock by Yard Inc