Tuesday 3rd November 2009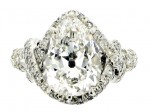 Imagine having the chance to possess a piece designed by one of the world's foremost jewellery designers of all time...
Imagine being given the chance to invest in a once in a lifetime work of art...
Now imagine you can wear it everyday as a symbol of love...

This Tiffany engagement ring, signed by Jean Schlumberger, who in his lifetime designed jewellery for princes and presidents, socialites and movie stars, is quintisessentially of its time. It epitomises the glamour and free thinking of the 1960's. As with all signature pieces there is a unique style to this ring. See the fluid lines inspired by natural forms. The cross/over diamond cocoon that holds the centre stone gently without detracting from its magnificence. The cut down settings that Sclumberger himself was so fond of, exposing the maximum amount of the diamonds whilst keeping them safe.

Then there is, the centre stone. A 4.11ct drop shaped old mine diamond. Most likely to have come from the Brazillian mines in the 1700-1800's and to have been handed down through the generations. Schlumberger would have re-visioned the piece, seen the beauty in another form. Hand drawn a design, the client would have agreed and it would have been made. In a one off comission, the stone and its one hundred accompanying side stones, would have been reset into the ring we see today.

This ring is the epitomy of Jean Schlumberger and his work. It is the living proof that diamonds survive through the ages and are passed on, only to re-emerge with new identities. It is what antique and period jewellery means. To quote Sclumberger himself - 'it is the way and means to the realization of dreams'.