Thursday 30th June 2011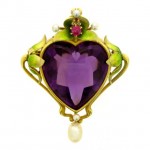 Hermann Marcus, founder of Marcus & Co, was born in Germany in 1828. As a young man, before moving to New York City in 1850, he gained experience at Ellemeyer, the court jewellers in Dresden. His first job in New York was at Tiffany & Co, though he soon moved to Black, Ball & Co. In 1864 he started his own firm, a partnership with Theodore Starr, forming Starr and Marcus. Though highly successful the firm was dissolved in 1877, at which point Marcus returned to Tiffany. In 1884 Marcus again left Tiffany to become a partner in the firm of Jacques and Marcus where his son William was already a partner, and in 1892, when Georges Jacques retired, the firm became known as Marcus & Co. They exhibited at the 1900 Exposition Universelle in Paris, where they showed beautiful examples of floral jewelry decorated with plique-à-jour enamel. Their exhibit there was praised by the famed French goldsmith and jewellery historian Henri Vever, who was often a candid critic of foreign work.

The present piece is a fine example of the type of designs at which Marcus & Co excelled in producing—highly colourful jewels in the Art Nouveau style. Marcus followed in the footsteps of his former employer, Tiffany & Co, whose designers were pioneers in using vibrant gemstones and enamelling to create beautiful and unusual color combinations. Though often compared to the jewelry of the famous Louis Comfort Tiffany, who created a line of 'art jewels' for his father's firm for which he became artistic director in 1902, Marcus' work shows perhaps a stronger influence of Paulding Farnham, who preceded Louis in that post. The lushness of both the gems and goldwork in combination with the impeccable enamelling is more reminiscent of the jewels Farnham displayed at the 1893 and 1900 Exhibitions, than of jewellery coming out of Louis Tiffany's workshop, which operated independently of that of the larger firm. Louis' work was experimental in both technique and design, with a finish perhaps more akin to the Arts and Crafts jewelers of Great Britain, while both Farnham's and Marcus' jewels are marked by the precision of a long-established workshop, more in keeping with the French tradition of high jewelry-making. Though both excellent in their own rights, Marcus' jewelry seems to have been geared toward society elite, whereas Louis' jewels appealed to the wealthy boheme. But regardless of intended clientele, due to its attention to quality and design, Marcus & Co is firmly established as one of America's most important jewelry firms, and this piece displays all for which it is renown, making it not only beautiful but a significant and important piece of jewelry history.

REFERENCES

Clare Phillips, Bejewelled by Tiffany: 1837-1987, London: Yale University Press, 2006.

Joseph Sataloff, Art Nouveau Jewelry, Bryn Mawr, PA: Dorrance & Company, 1984.

Vivienne Becker, Art Nouveau Jewelry, London: Thames and Hudson, 1998.