Tuesday 31st May 2011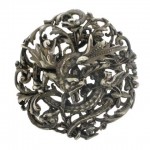 Jules Wièse (1819-1890) is considered to be one of the finest French jewellers of the nineteenth century. He was among three preeminent Parisian goldsmiths producing exquisite silver jewellery in the Neo-Renaissance style, the other two being Frédéric-Jules Rudolphi and François-Désiré Froment-Meurice.

Born in Berlin, Wièse was apprenticed there to the court goldsmith Johann Georg Hossauer before moving to Paris. In France he first worked under J.-V. Morel as a chaser and jeweller, and finally for the aforementioned Froment-Meurice from 1839. By 1844 he is recorded as holding the position of workshop manager, and in the same year he registered his own maker's mark (as seen on the present piece). In the next year he opened his own workshop with twenty five craftsmen at 7 Rue Jean Pain Molet, first working exclusively for Froment-Meurice, for which he was awarded a Collaborator's Medal at the 1849 Paris Exposition. By the next Paris Exposition, in 1855, Wièse exhibited under his own name, winning himself a First Class Medal for his work in the Neo-Renaissance style, as seen in this brooch. His contemporary M. Magne wrote the following of him and his display: '[Wièse is a] fine goldsmith and jeweller with an already distinguished reputation which can only be enhanced by his display. The importance of his pieces and his brave experiments reveal, even in the most modest work, an awareness of art and beauty which deserves to be encouraged by the jury'. More medals for his work were to follow, including the Medal of Honour at the 1862 London Exposition. After his death in 1890, his son Louis Wièse assumed management of the firm, registering his own maker's mark in that year.

The present brooch is a fine and rare example of Jules Wièse's independent work. The piece bears both the maker's mark 'JW' above a star in a vertical lozenge, and the more general mark 'WIESE', which was used by both the father and son in conjunction with their respective marks. The vast majority of the extant jewels made by the Wiese firm bear the mark of the son, not the father, rendering this piece extremely uncommon. Furthermore, it is in his most celebrated style, the Neo-Renaissance, for which, as mentioned, he was awarded a First Class Medal at the 1855 Exposition. Based on the use of his own mark, and not bearing that of Froment-Meurice in addition, it is possible that this brooch could date to the period just after his frequent collaboration with his master, which ended around Froment-Meurice's death in 1855. However, so little remains of Jules' work that it is difficult to narrow the date range for this piece from when he was working on his own until his death. Judging from his contemporary, Emile Froment-Meurice (son of François-Désiré), silver jewellery in the Neo-Renaissance style continued to be popular into the 1880s. Interestingly, Emile F.-M. produced silver jewellery with similar themes—a silver phoenix brooch, and a silver circular openwork brooch composed of the emblem of François I, France's most famous Renaissance era monarch, for example—which based on their marks place their manufacture post-1878, perhaps suggesting that this brooch also dates from that time. What is certain is its rarity and the high quality of its design and manufacture, which upon close examination leaves the observer with little surprise as to why the jewellery of Jules Wièse was, and continues to be, so exalted.

REFERENCES

Frances Wilson and Caroline Crisford, ed.s, The Belle Époque of French Jewellery: 1850-1910, London: Thomas Heneage & Co. Ltd., 1991.

Henri Vever, Katherine Purcell (trans.), French Jewellery of the Nineteenth Century, London: Thames & Hudson, 2001 (1906-1908).