MAPPIN & WEBB
Founded by Jonathan Mappin in 1774, he began the family business as a silversmith.

In 1846 the firm was managed by Frederick Thorpe Mappin who took his brothers into the business and the firm became Joseph Mappin & Co. In 1846 the business was amalgamated with that of William Samson & Sons changing to Mappin Brothers. Between 1849 and 1858 they opened three shops and a factory producing fine quality silver and jewellery.

Its partners were the founder's four sons, Frederick Thorpe Mappin, Edward Mappin, Joseph Charles Mappin and John Newton Mappin.

In 1850 John Newton Mappin left to establish a new firm trading under the name Mappin & Co, this changed in 1863 to Mappin & Webb after an agreement to avoid confusion between the two firms' names.

Mappin Brothers continued to be advertised as the original firm, but in 1902 it was amalgamated with Mappin & Webb Ltd. Thus emerged the company we know today.



Learn about the design history of fine jewellery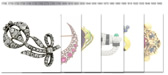 Learn which gemstones and jewellery make the perfect bithday gift or anniversary celebration