GRIMA
Andrew Grima 1921-2007
He opened a shop on Jermyn Street in 1966, as well as locations in Sydney and New York in 1970, Zurich in 1971, Tokyo in 1972, Lugano in 1987 and Gstaad in 1992.

He was appointed jeweller to Her Majesty the Queen in 1970.

Grima designed a collection of watches for Omega, the series entitled "About Time" in 1971.

Andrew Grima died in Gstaad, aged 86 in 2007.

Jojo and Francesca currently design and sell bespoke pieces from Gstaad and twice yearly shows in London.

Learn about the design history of fine jewellery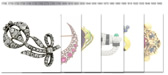 Learn which gemstones and jewellery make the perfect bithday gift or anniversary celebration