THEODORE FAHRNER
Art Nouveau, Art Deco, and modern jewellery was manufactured by the firm of Theodor Fahrner for a hundred and twenty-five years (1855-1979). Growing into a major producer of style-conscious jewellery, the company both led and was inspired by the major European art movements of Arts and Crafts, Art Nouveau, Art Deco and Art Moderne. From their workshops in Pforzheim, Germany, they exported goods worldwide.
Theodore Fahrner sensing the trend away from symbolism and historicism, Fahrner turned to the Darmstadt Colony for new designs. The Darmstadt Colony was an artist's enclave in the Arts & Crafts tradition founded in Germany in 1897 by Duke Ernst Ludwig of Hesse, Queen Victoria's grandson.
Fahrner's collaboration with artists provided him with cutting-edge, modern designs for jewellery and gave the artists a conduit for the manufacture and sale of their pieces. Exceptional among jewellery manufacturers, Fahrner allowed the artist/designer's name to appear on some pieces along with his own "TF" trademark. Fahrner's jewellery manifested the new trend for streamlined, modern pieces, a culmination of the new philosophical approach to design.


Learn about the design history of fine jewellery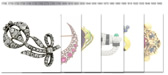 Learn which gemstones and jewellery make the perfect bithday gift or anniversary celebration