JEAN SCHLUMBERGER
Born in Alsace, France in 1907 Jean Schlumberger was always sketching. His love of design was not fostered by his parents, and he was sent to Berlin to be a banker.

By the 1930's he had left banking and joined Elsa Schiaparelli, designing costume jewellery and buttons.

By 1946 he had realised his true gift and opened a jewellery salon, with his partner Nicolas Bongard.

By 1956 he was so successful that Walter Hoving, the president of Tiffany & Co asked him to become one of his named designers.

He was inspired by nature and the natural form, and as such his jewellery often has an instintive organic form.

His devotees incuded, the Duchess of Windsor, Great Garbo, Audrey Hepburn and John and Jackie Kennedy.

To this day, Tiffany & Co has only had four designers that they allowed to sign their own pieces.

His friend and longtime client Diana Vreeland once said of him that he 'appreciates the miracle of jewels. For him, they are the ways and means to the realization of his dreams'.

Learn about the design history of fine jewellery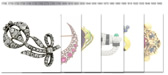 Learn which gemstones and jewellery make the perfect bithday gift or anniversary celebration