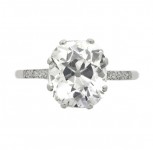 In honour of the Queen's Diamond Jubilee, marking the sixtieth year of her reign, Buckingham Palace is hosting an exhibition of some of the most important pieces of diamond jewellery in the Royal Collection.  It is a rare chance to view three centuries of royal jewels, most of which have rarely, if ever, been on display.
The diamond-themed exhibition will showcase a number of antique jewels in the Royal Collection, including Queen Victoria's coronation earrings and necklace of 1838, her diamond fringe brooch created in 1856, as well as Queen Mary's tiara, made for the queen consort in 1893. Acquired by the present queen, in the exhibition will also be the 'South Africa' necklace and bracelet which she received on her tour of the country in 1947, and her famous 'Williamson' diamond brooch made by Cartier in 1952, set with a glorious 23.60 carat pink diamond.
As always, the Crown Jewels—a collection of regalia used primarily for state occasions—will also be on display in the Tower of London.  This collection includes one of the most famous diamonds in history, the 106 carat Koh-i-noor ( 'Mountain of Light'), which was acquired by Queen Victoria from India in 1850.  This magnificent stone, prized for its size, colour and clarity, was mined in the Golconda region of India, the ancient source of the world's finest diamonds.  It is now set into a platinum crown made for the late Queen Mother, and is only worn by queens as it is said to bring bad luck to any man who bears it.
This most famous of diamonds is known in the gemmological world as Type IIa, one of the four classifications of diamonds based on precise chemical composition.  Unlike the other three types (Ia, Ib, and IIb), IIa diamonds are pure carbon, and due to their purity exhibit superior transparency and colourlessness.  They are the rarest of all diamonds, making up only two percent of gem-quality stones.  Berganza is extremely lucky to have one such diamond in the present collection–featured in the ring pictured above—, fortune only surpassed by that of the future purchaser!
For more information of the Diamonds: A Jubilee Celebration exhibition, please follow the link:
http://www.royalcollection.org.uk/exhibitions/summer-opening-of-buckingham-palace-diamonds-a-jubilee-celebration