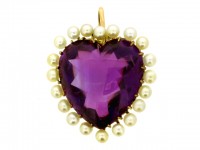 Amethyst is the purple variety of the gemstone species quartz, which also forms in yellow (citrine), brown (smoky quartz), pink (rose quartz) and colourless (rock crystal) varieties.  Prized since ancient times, the name derives from the Greek word 'amethystos', meaning 'not intoxicated', and was believed to hold healing and protective qualities, including the ability to defends its wearer from seduction.  It is also said to be healing to the heart, both physically and spiritually, and promotes cooperation, peace and unconditional love. For these reasons, in addition to its innate beauty and regal and feminine hue, amethyst is a fitting gemstone for the month of love, February.
Amethysts are found throughout the world, including in Russia, Brazil and Madagascar, with Russian amethysts, the mines are now largely exhausted, historically prized above all others for their deep, even reddish purple hue.  Amethyst crystals can form in relatively large sizes, with some of the biggest weighting in the range of seven hundred carats.  However, evenly saturated specimens of ideal colour are rare and can demand per carat prices similar to other precious stones.
Perhaps due to their colour—purple being traditionally associated with royalty and nobility—amethysts have long been a favourite of monarchs.  Catherine the Great of Russia financed numerous mining projects in the Ural Mountains in order to procure the stones for her use, and Queen Charlotte of England, wife of King George III, was famous for her prized amethyst bracelet, which had an estimated value of two thousand pounds in the early nineteenth century, which according to the Bank of England would equate to about one hundred and twenty thousand pounds today!